Key Takeaways
Situations where you need to search for shoes only from a picture
Various methods, both manual and tech-based solutions to recognize/find shoes from a picture (including pictorial step-by-step guides)
Real-life investigations
Popular mobile apps for the above-mentioned purpose
Some confusion-busting and methods to recognize fake shoes from a picture
There's no harm in liking a shoe displayed at the shoe store on your way to the office, or from the poster of a footwear ad. Even you may be attracted by the vivid color or design of the pair worn by a random passerby.
When surfing the internet, sometimes you may also see a pair of shoes that you really like. Situations become challenging when you want to have the same pair but you have no clue about the details of that pair- and this can be a daunting task.
All you may have is just a picture of the shoes.
But you are living in the age of AI and advanced digital technology, and you have nothing to worry about.
Yes, mate… In this digital era, nothing is unfindable.
I'll guide you through a series of methods you can apply to find shoes from a picture you are eagerly searching for or even by searching with text details and getting most of the information you want about that pair.
Scenarios I Have Considered to Demystify How to Find Shoes from a Picture
There can be a few scenarios where this article from my personal life experience may help you:
You have seen someone wearing a shoe and instantly you like it. But you can't ask him/her about details instead you take a picture (without violating privacy norms) of the shoe to find details later.
You have seen a picture of shoes on the internet, maybe on Instagram or any social media, and there is not much description. But you wanna know the details badly.
You are in a shoe store or browsing an online store to buy your favorite pair of shoes, but you are feeling suspicious about the trustworthiness of the seller or the shoe itself.
If you find yourself in any of the above cases, you are definitely on the right page to help you out. Let's see how to solve this dilemma.
You May Ask – I am not a Techy Guy Mate! How Do I Find The Shoe Just From a Picture?
Well yes, I hear you! It's no shame if you are not into techs or if you're not very proficient with the internet and search things. Once there was no internet, and the world was running fine, as well as life.
So what you can do? See the following options:
You can go to a shoe store to search physically and ask the salesperson about the shoe by showing him the pic. But be sure that'll take a hell lot of time because Murphy's Law is still in action…lol.
You can search for yourself or ask your kids or grandkids (I believe you have a few by the grace of God) to search the internet world or a few mobile apps (described below) to find them for you.
You can ask around the social platforms (nowadays most of us have one) and ask your friends and foe around if they can recognize it and give you details.
Key Factors to Consider When Trying To Find Shoes From a Picture
When you're trying to find a pair of shoes from a picture, there are a few key details to consider.
First and foremost, pay attention to the material the shoe is made out of. Leather or synthetic materials can affect the overall look and feel of the shoe, so take note of this when comparing images.
You should also take into account any embellishments like buckles, straps, or laces; these small touches can really make an outfit stand out.
Don't forget to look for brand logos! These can be very helpful in narrowing down your search and provide useful information about style offerings and price points.
Lastly, don't forget to take a good (or at least recognizable) photo of the shoes. Blur or hazy pictures won't help you much.
Once you've narrowed down the materials, embellishments, and brand logos, it's time to start searching and comparing images.
How To Use The Technology To Search For Shoes
Unless you hate to use the computer with the internet or don't like Android or Apple mobiles (no offense to the classic button mobiles or land phones), you can very well use the blessings of the internet to search for your pair. Let's have a deeper look.
There are basically four ways for this:
Using Image Search Engines
Using Image Recognition Apps
Utilizing the Social Platforms
Asking on Popular Query Platforms
Using Image Search Engines To Find Shoes From a Picture (Reverse Image Search Method)
One of the most popular and widely used methods to find shoes from a picture is through a reverse image search. This technique allows you to upload an image or provide a URL of the shoe picture and search the web for similar or identical images. The search engine will then present you with results that match or closely resemble the shoes in your picture.
There are a few popular image search engines such as:
Google Image Search (or Google Lens)
Bing Image Search
Yandex Image Search
Amazon StyleSnap (used for Amazon products only)
To perform a reverse image search, follow the following steps which are more or less the same for the above engines:
Step-1: Head over to your favorite search engine (Google, Bing, Yandex, or Amazon) and click on the "Images" tab.
Step-2: From there, you can either drag and drop the shoe picture or paste the image URL.
Step-3: After a few seconds of searching, you'll be presented with a plethora of options that closely resemble the shoes in your picture.
Steps for Google Reverse Image Search
Steps for Bing Reverse Image Search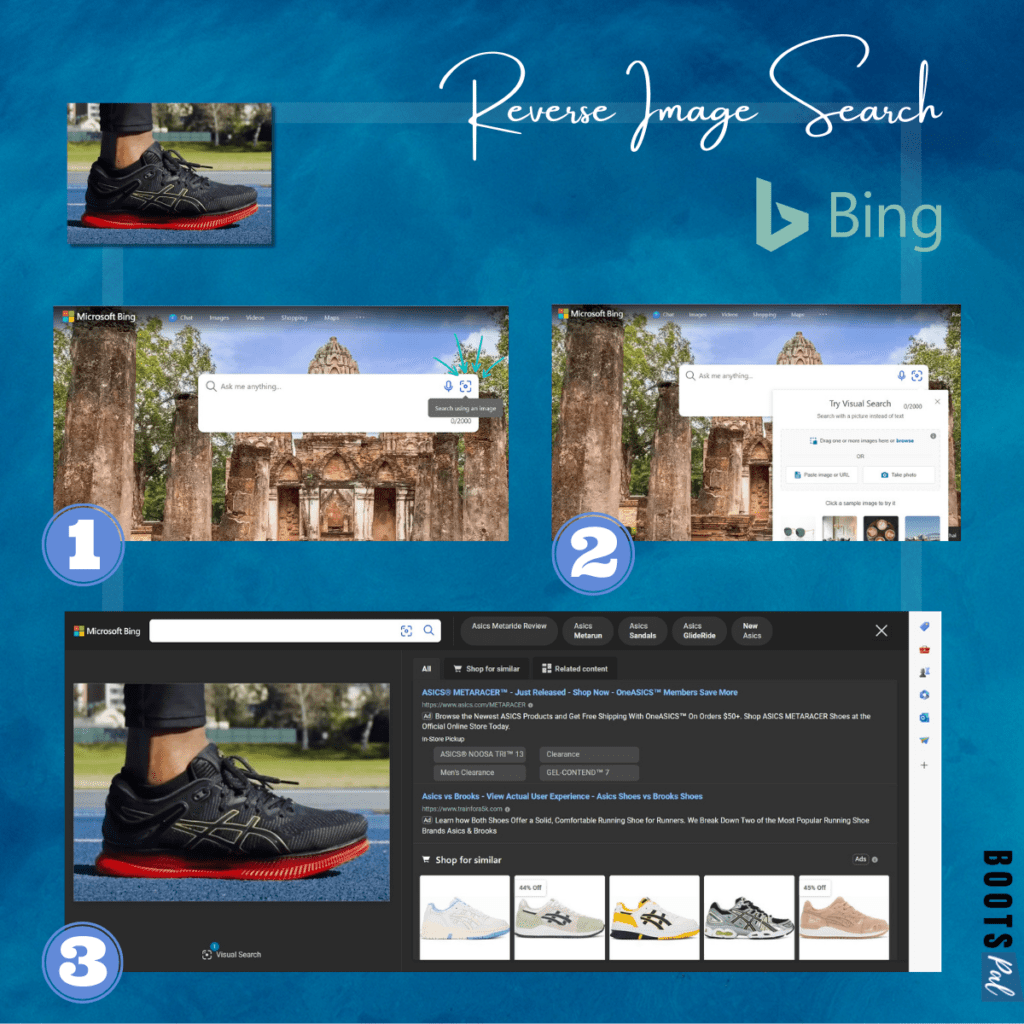 Steps for Yandex Reverse Image Search
Steps for Amazon Reverse Image Search (Only for Amazon Products)
For example, let's say you stumble upon a stunning pair of blue running shoes while you were running on the track but can't ask the runner to find any information about them. You can have a picture (without violating privacy norms obviously!), save the image, and perform a reverse image search on Google, Bing, Amazon, or Yandex, and voila! You might discover the brand, model, and even where to purchase those dreamy shoes.
Using Image Recognition Apps To Find Shoes From a Picture
If you're more inclined towards the convenience of mobile apps, then shoe recognition apps are your new best friend. These nifty applications use cutting-edge image recognition technology to identify shoes from pictures and provide you with all the relevant information you need.
There are a few apps available which can help you find shoes from an uploaded picture. These apps are quite simple and easy to use, all you need to do is upload a picture of your desired shoe in the app and it will search through its database and display similar-looking shoes from different web resources.
Google Lens Mobile App
Google Lens Mobile is a nifty little tool that can be found in the App Store and can help you find just about anything, including shoes. All you need to do is take a picture of the item you're looking for, and Google Lens Mobile will search for it online. It's quick, easy, and best of all, it's free!
The app provides lots of useful information, such as the price of the item, where to buy it, and where to find more info and reviews from other users. So, whether you're looking for the perfect pair of shoes or just want to find the best deal on a new purchase, Google Lens is a handy tool to have.
Let's see what can be done with this app.
First, download Google Lens mobile app on your mobile phone from here.
While I was roaming around in a Birkenstock and a Timberland store, I tried to use this app and was amazed by the results.
See below what I found in a Birkenstock store:
Just from a hazy and shaky picture, Google Lens fetched a lot of info related to reviews, how-to guides, prices, and even where to buy Birkenstocks. It's just super easy!
Another example below while I was at a Timberland shop: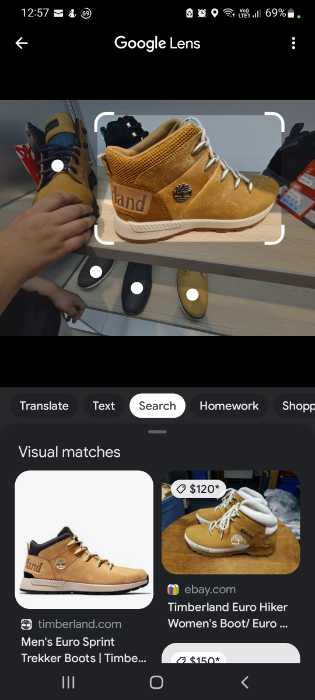 Here I explored the shopping and place options also, to find out details from a real buyer's perspective, and see the results. Google is making our lives hassle-free indeed.
BuyViu
With the BuyViu app, you can easily find shoes from pictures. All you need to do is upload a photo of the shoes to the app, and BuyViu will show you a variety of options that match the style.
You can narrow down your search by entering specific keywords, such as "red" or "high heels."
You can also filter your results by price, size, and color. And if you're not sure what you're looking for, you can browse through the app's extensive catalog of shoes.
Install the Buyviu app from playstore and follow the steps as shown in the below pictures:
Steps to Use BuyViu App to Find Shoes from Picture
PictPicks
Finding the perfect pair of shoes has never been easier thanks to PictPicks! With this free mobile app, you can easily search for images and photos with a few simple operations. Whether you're looking for shoes to match a particular outfit or just browsing for inspiration, PictPicks makes the search process a breeze.
With functions that include filtering by size, color, type, and even time, you can easily narrow down your search and find exactly what you're looking for. Additionally, PictPicks allows you to view images, search for related ones, save images, and even use them as wallpaper or contact photos. Say goodbye to the frustration of searching endlessly for the perfect pair of shoes and give PictPicks a try!
Steps to Use PictPics App to Find Shoes from Picture
You may try a few other apps available which I found very useful.
Sneakerr
If you're a sneakerhead, Sneakerr is the app for you. This specialized sneaker search app is designed to help you find specific sneaker models. Take a picture, and Sneakerr will scour its extensive database to provide you with detailed information, release dates, and even resale options. Stay ahead of the game with this sneakerhead's secret weapon!
Steps to Use Sneakerr App to Find Shoes from Picture
Pinterest Lens
The Pinterest Lens option in the Pinterest mobile app is a treasure trove for fashion inspiration, including shoes. While searching, by capturing an image or selecting one from your gallery, Pinterest Lens will not only find similar shoe styles but also suggest related fashion ideas and trends. It's like having your own personal stylist at your beck and call!
Steps to Use Pinterest Lens to Find Shoes from Picture
Nike Visual Search
For those seeking athletic kicks, Nike Visual Search is the ideal tool. This app allows you to snap a picture of a shoe and find similar models from Nike's lineup. With Nike's expertise in sports footwear, you're sure to find the perfect pair for your athletic endeavors!
Image courtesy: iamsam
Using Social Media & Online Communities To Find a Specific Pair of Shoes
Social media platforms are not only for sharing memes and cat videos—they can also help you find that specific pair of shoes you've been eyeing. Platforms like Instagram, Twitter, and Facebook have vibrant shoe communities where you can post a picture and ask fellow shoe enthusiasts for their expertise. Engage with the community, share your passion, and watch as shoe suggestions pour in!
Also, try reaching out to online communities such as Reddit's "FashionReps" subreddit or Instagram groups like "ShoeShark." These forums are full of people who have extensive knowledge about different types of shoes and may be able to help you identify what you are looking for.
Using Popular Query Platforms (Quora, Reddit, etc.) To Find a Specific Pair of Shoes
Fortunately, there are a number of popular query platforms out there that can help you to zero in on the shoes you're looking for with ease. Quora and Reddit, to name just a couple, are great places to start your search for that special pair of shoes. Not only will you be able to get feedback and advice from seasoned shoe shoppers, but you might just find some hidden gems that you wouldn't have found otherwise. So why not give it a try? With just a few clicks, you could be one step closer to finding the shoes of your dreams.
Find Shoes Using Online Shoe Databases
Online shoe databases, for example – the Sneaker Database, are very helpful when trying to find shoes from a picture. These websites have huge collections of photos and detailed descriptions of different types of shoes, ranging from designer brands to more affordable options. You can search for a specific type of shoe or browse through the photos to find something similar.
For example, if you're looking for white sneakers from a picture, you can enter "white sneakers" into the search bar and then narrow down the results by brand, color, size, etc. This makes it much easier to find exactly what you're looking for.
Don't Have Any Photo?? Don't Worry, Ask Details to AI
In this era of AI and GPT engines, even if you don't have any photos of the shoes you noticed and want badly, you can always ask the AI engines for details of the shoes to find out for you. Nowadays, few AIs can scrape results from the most recent Search Engine (Google, Bing, etc.) pages for you. In that case, keep an eye out for the details such as brand, color, size, logo, special features, soles, etc.
Always Be Prepared To Do Some Digging Mate!
Sometimes, no matter how hard you try, you just can't seem to find what you're looking for. In those cases, it pays to be prepared to do some digging in order to track down the shoes from the picture. You may need to scour websites like eBay or Etsy in order to find a pair that's been previously sold or offered. You may also need to consult specialists who are familiar with rare and vintage footwear.
If All Fail… Look For Brands That Offer Customization
Some brands offer customization services that allow customers to personalize their own shoes. If you like the look of the ones in your photo but can't seem to find them anywhere else, it may be worth looking into these services. This way, you can get exactly what you want without having to settle for something close enough.
Tips for Identifying Knockoff or Counterfeit Shoes from a Picture
As a savvy shoe sleuth, it's crucial to know how to spot knockoff or counterfeit shoes. Here are some essential tips to help you in your quest:
Look for Colour and Logo Details
Pay close attention to the color accuracy and logo placement when comparing the shoe in question with official product images. Discrepancies in color shades or logo size and positioning can indicate a potential counterfeit.
Look for Ratings and Reviews
If you're browsing through an online marketplace or a seller's website, make sure to check the ratings and reviews. Authentic shoes tend to have positive feedback from satisfied customers, while knockoffs may receive negative reviews or lack any feedback altogether.
Check for Shoe Size and Material
Counterfeit shoes often use lower-quality materials and might not match the advertised size. If the price seems too good to be true or the materials appear subpar, exercise caution and investigate further.
How To Find The Details (Name, Model Number, Size, Material, Quality) Of A Shoe From A Picture?
Finding the details of a shoe from a picture can be difficult, especially if you don't have any other information about it. However, there are some steps you can take to help identify the information you need.
First, look closely at the photo and try to identify any brand labels or logos that may be present on the shoe. This can help narrow down your search and make it easier to find a match in an online store.
Second, pay attention to any key details that appear in the image, such as the style or type of shoe (e.g., athletic shoes, hiking boots, dress shoes). This can also help you find a match online more quickly.
Third, check for any product description or text accompanying the photo. This can provide important information such as the model number, size, material used in construction, and quality of construction. If this is not available with the image itself, then searching for matching products with similar details can lead to more accurate results.
Finally, if possible and available for comparison purposes, measure the dimensions of both feet (length and width) and compare them with the manufacturer's size charts for a more accurate sizing selection. When measuring feet lengthwise for shoes purchase purposes an additional 1/4th inch should be added as allowance for foot movement when wearing them for optimal comfort.
How to Take Good (or at least Recognizable) Pictures of the Shoes You Want to Find from Photo?
Taking good (or at least recognizable) pictures of the shoes you want to find from a photo is an important part of the process of finding the desired style and size.
If possible, make sure that you have a clean background, such as a plain wall or carpeted floor, so that the shoe stands out without any distractions in the image.
Additionally, try to take photos from multiple angles, including straight-on, side views, and above to capture as much detail as possible. Make sure that you are using enough light so that shadows do not obscure the finer details of the shoe.
When taking photographs of feet and/or shoes keep in mind factors such as size, shape, color scheme, texture of material used for exterior surface, and trimming details.
If available zoom in on any logos or branding aspects that can be used for further comparison purposes when searching online for similar products.
Interesting Facts about Shoe Recognition Technology
Enough of the knowledge gigs, let's take a moment to appreciate the fascinating technology behind it. Here are a few interesting facts that might pique your interest:
Did you know that image recognition algorithms can identify shoes based on various features such as color, pattern, texture, and even specific design elements? It's like magic but with a touch of science!
Some shoe recognition apps also offer additional features like price comparisons, customer reviews, and even outfit suggestions to help you rock your new pair of shoes in style. Talk about a handy shopping companion!
Shoe recognition technology isn't just limited to everyday footwear. It can also identify specialized shoes like sports sneakers, designer heels, and even vintage classics. No matter what type of shoe catches your eye, these apps have got you covered.
The accuracy of shoe recognition algorithms has significantly improved over the years. With advancements in artificial intelligence and machine learning, these apps can now recognize even the tiniest details and provide accurate results.
Some shoe recognition apps also offer a social component, allowing you to share your finds with friends, follow shoe enthusiasts, and even create wishlists. It's a whole new level of shoe-centric social networking!
Frequently Asked Questions
1. Are shoe recognition apps free to use?
While many shoe recognition apps offer free versions with limited features, some also have premium subscriptions that unlock additional functionalities. It's always a good idea to check the pricing details and decide which option suits your needs and budget.
2. Can shoe recognition apps identify shoes from any picture quality?
Shoe recognition apps work best with clear and well-lit images. Higher picture quality improves the chances of accurate identification. So, it's advisable to use high-resolution images for better results.
3. Do shoe recognition apps work for all types of shoes?
Most shoe recognition apps are designed to identify a wide range of shoes, from casual sneakers to formal dress shoes. However, the accuracy may vary depending on the app and the specific features of the shoe in question.
4. Can shoe recognition apps help me find discontinued or vintage shoes?
Yes! One of the remarkable features of shoe recognition technology is its ability to identify vintage and hard-to-find shoes. By analyzing the design and characteristics, these apps can often suggest similar models or direct you to specialized vintage shoe retailers.
5. Are there any privacy concerns when using shoe recognition apps?
Shoe recognition apps typically don't store or use personal data beyond what is necessary for identification purposes. However, it's always a good practice to review the app's privacy policy and permissions before using it.
6. Are there any ethical considerations when trying to identify shoes from a picture?
Ethics play a crucial role in any endeavor, including shoe sleuthing. It's essential to respect intellectual property rights, adhere to online platforms' terms of service, and avoid engaging in any activities that infringe upon copyrights or trademarks. Furthermore, ensure that the sellers you interact with are reputable and genuine, promoting fair trade practices.
Parting Words
Congratulations, fellow shoe sleuths! You've now learned the art of finding shoes from a picture, armed with various methods, apps, and expert tips. Whether you're searching for a discontinued pair, identifying knockoffs, or simply indulging in the thrill of the hunt, these techniques will set you on the right path.
Remember, it's not just about finding a pair of shoes—it's a journey of passion, style, and detective prowess. So put on your imaginary detective hat, grab your smartphone, and embark on your quest to find the perfect pair of shoes from a picture.
Finally, if you happen to be stuck on your hunt for the perfect pair of shoes, don't fret—you can always shoot any queries to us, and we'll be happy to assist you.
See Ya!

We are sorry that this post was not useful for you!
Let us improve our effort!
Tell us how we can improve our effort
Latest posts by Lance 'LeatherMan' Hackney
(see all)