Do you love velvet shoes?

Do you wish they were not so expensive?

Do you hate the fact that you can't wear your velvet shoes in the rain?

Do you have rather a shallow idea on how to clean velvet shoes?
If this is "yes" to all or most of these questions, then this article is perfect for you!
Velvet shoes are one of the up-and-coming shoe trends for this winter season. And you do not want to miss out on these gorgeous shoes! But, due to the high cost of replacing them, you need to know how to properly care for them.
Did you also know that cleaning your velvet shoes can be especially difficult?
There is a lot of conflicting information out there on how to clean velvet shoes. The biggest problem with cleaning velvet shoes is that you don't want them to lose their beautiful texture. So, the last thing you want to do is scrub too hard or use something abrasive that will cause damage!
So, if you are like me and you love having some velvet shoes in your wardrobe but want to know how to properly clean them, then this article is perfect for you!
This article will teach you how to clean velvet shoes in an easy way that won't damage them or leave any residue behind. You'll be able to keep wearing your favorite pair for years without having to worry about ruining them!
Most people don't know that velvet shoes require special care in order to keep them looking new. The good news is that there are a few easy ways you can do this at home without any fancy products or expensive cleaners.
Read on with us and learn how you can care for your velvet shoes like a pro!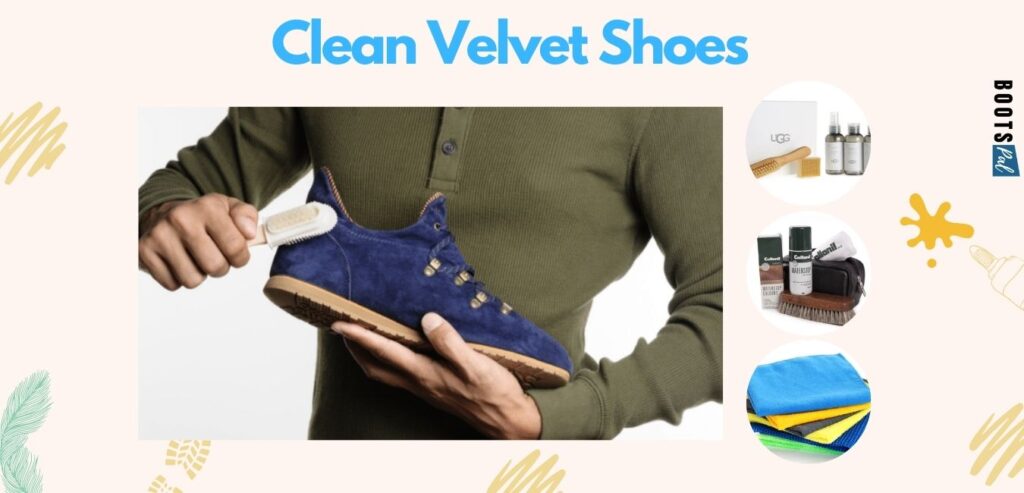 Velvet shoes belong to the category of shoes referred to as "elegant" or made from traditional fabrics. They're not for everyone, but those who choose to acquire a pair can afford themselves a wonderful treat!
Velvet shoes were popular in the Victorian Era and they became trendy again in the early twentieth century. These shoes can be made from velvet, suede, or corduroy and might feature pointed toe and stiletto heel styles (which causes them to stand out).
Nowadays, velvet shoes are gaining popularity for their plush texture and beautiful designs.
Velvet shoes are often worn with formal attire for that extra luxurious feel/look they offer. They're also great to wear in the cold winter months because the material helps insulate your feet from cold, damp weather!
Some Positives of Velvet Shoes
Velvet shoes are tidy and sturdy.
Velvet shoes are durable.
Velvet shoes add a touch of class to any outfit.
Few Downsides of Velvet Shoes
Even though you love them, there might be a few downsides to owning a pair of velvet shoes that you should be aware of:
Velvet shoes can be expensive.
Velvet shoes will cost you more in the long run because they are not as durable as leather shoes.
Velvet shoes can stain easily, so you need to know how to properly clean them.
Types of Velvet Shoes and Boots
There are many kinds of velvet shoes available on the market. And they vary in terms of color, style, fabric (e.g. polyester velvet), and design.
Kitten Heels – these are low-rise velvet shoes that have kitten heels for women with smaller feet. The height can be anything from one to three inches tall depending on the style. This type of shoe is often made with suede, but it can also be found in velvet.
Pointed Toe Pumps – these are pointed-toe pumps that make them very stylish and versatile, allowing you to wear them with many different outfits. They are usually made from velvet or suede or a combination of both.
Peep Toe Pumps – these pumps have a cutout window at the toe area, which is perfect for showing off your pedicure. They vary in color and they're often made from velvet. However, these can also be found in suede or a mixture of both materials.
Velvet Boots – boots look very pretty in velvet. They can be worn with a casual outfit or formal attire. Velvet boots are usually made from suede and have a short heel, which makes them easier to walk in.
When Should You Clean Velvet Shoes and Boots?
Even if you love your velvet shoes, they will get dirty over time. You can speed up the process by wearing them every day or walking through dirt and mud. But, regardless of how often you wear your shoes, it's important to keep them clean!
Be ready to clean your velvet shoes under the circumstances when –
They get wet or dirty outside. You can't avoid getting your shoes dirty, but you can wash them out with a rag and some water to get rid of any debris that has accumulated.
You get too many scuff marks on the soles. If they're starting to look really shabby, then it might be time to invest in a new pair. But if it's just one or two marks, then you can use some toothpaste and a toothbrush to clean them.
You spill something on your shoes. Accidents happen! If there is a stain on your shoe, it might be time to get out the cleaning supplies.
---
How to Clean Suede Shoes and Boots
The old saying is true with velvet shoes – you get what you pay for!
But don't worry, there are a few ways you can clean and keep your shoes looking new and stylish without breaking the bank. This is great news to those of us who have a shoe addiction!
Before we dive deep, it is better to know that there are a few levels, or I should say, types of cleaning your velvet shoes depending on the requirement, frequency of cleaning, and degree of cleaning:
Regular cleaning – for removing dust and dirt on a regular basis when accumulated.
Dealing with stains – When velvet shoes get stained, requires higher intensity cleaning.
Preventive cleaning – to avoid possible damage to your favorite velvet pairs.
Type-1 : Regular Cleaning for Removing Dirt and Dust
| | |
| --- | --- |
| Time Required | 15 Minutes |
| Difficulty Level | Easy |
| Budget Required | $5-$10 |
Logistics Required
---
---
Steps to Clean Velvet Shoes : Regular Easy Cleaning
Step-1 : If your suede boots are wet, allow them to be fully died up.
Step-2 : Once completely dry, brush your shoes from the inside to the outside using a Velvet-safe soft brush or a head toothbrush. Make sure you get into all nook and crannies to remove any dirt. If there is stubborn dirt, dampen a cloth with warm water and gently rub until it disappears.
Step-3 : Use a dry microfiber cloth/tissue to wipe off any excess moisture.
Pro-tip: After washing and cleaning your shoes to remove any stains and dirt, you should never wear them until they dry completely. This helps prevent mildew or mold from growing inside the shoe.
---
Type-2 : Dealing with Stains
| | |
| --- | --- |
| Time Required | 20 Minutes |
| Difficulty Level | Easy to Medium |
| Budget Required | $10-$20 |
Logistics Required
---
---
Steps to Clean Velvet Shoes : Dealing with Stains
Step-1 : Before you start cleaning, insert a shoe stretcher inside your shoe and use a sponge/microfiber cloth to dab and wipe off the dirt from the suede shoes.
Step-2 : Make a sudsy solution by mixing two tablespoons of liquid soap or detergent with a cup of water – the amount will depend on the size of your shoes. Alternatively, you can use one of the best velvet shoe cleaners in the market now, Saphir Omnidaim (it comes with a brush too!).
Step-3 : Dip the toothbrush in the sudsy solution and gently apply it to stains. Work in small circles to avoid creating scratches.
Step-4 : For any stubborn stains, repeat the rubbing process and increase intensity a bit, but not too much. You can also add a few drops of rubbing alcohol to help in removing the stains.
Step-5 : Let the suede absorb moisture for half an hour.
Step-6 : To finish off, use a microfiber cloth/paper towel to absorb remove any remaining extra solution.
Step-7 : Let the shoes away for drying up completely before wearing.
Pro-tip: You can use small amount of lemon juice and warm water as alternative to soap/detergent. If the stains are not gone even after applying the above method repeatedly, consider bringing the pair to a professional.
---
| | |
| --- | --- |
| Time Required | 10 minutes (To apply) + 24 hours to dry up completely |
| Difficulty Level | Easy to Medium |
| Budget Required | $15-$20 |
Logistics Required
---
---
Steps to Clean Velvet Shoes : Dealing with Stains
Step-1 : Before you start, remove any excess dirt and wipe your shoes with a moist cloth and let it dry completely.
Step-2: Spray a light coat on a paper towel or cloth before applying it on the shoes. Spread it evenly all over the surface with the help of your hand. Alternatively, you can spray directly on your shoes also. This helps to protect velvet shoes from future damages and is perfect for maintaining their appearance.
Step-3: Let the shoes dry completely before wearing them again.
Pro-tip: Make sure you do not apply too much of the spray solution, which might damage your shoes. Also avoid your velvet shoes to come in contact with heat, because it'll accelerate fading of color.
---
Besides cleaning velvet shoes there are few other aspects and to-do things we need to know for caring your loved pair:
How to Deodorize Velvet Shoes
Velvet shoes are prone to absorbing odors. To take care of this odor problem, you can do a few simple things:
Fill a spray bottle with half white vinegar and half water. Give it a shake and then spritz your perfume-absorbing shoes with the mixture, allowing them to dry entirely before wearing again.
Sprinkle a little bit of baking soda in the shoes and let it sit overnight. In the morning, brush off any excess baking soda with a soft-bristled suede brush (or toothbrush).
How to Make Velvet Shoes Waterproof?
Velvet is naturally water-resistant but not waterproof. It's recommended to treat your velvet shoes with a DIY method of waterproofing it by mixing 3 tablespoons cornstarch, 2 tablespoons baby powder, and 1 tablespoon white vinegar in a spray bottle filled with warm water. Shake well before each use so you can effectively cover the fabric for protection from the rain.
How to Get Water Stains Out of Velvet Shoes?
To get rid of those pesky water stains on your velvet shoes, simply use a soft cloth and use a liberal amount of vinegar. Next, scrub the fabric until you achieve that shine once again!
How to Maintain Velvet Shoes
If you want to keep your velvet shoes looking like new for longer periods, there are some simple things you can do.
Trim any loose threads with small scissors to avoid unraveling. Avoid using sharp objects which might cause damage to the fabric.
Avoid prolonged exposure to direct sunlight, because it fades color of your shoes gradually and also makes them look dull when worn after that.
Do not step in liquid spills immediately, let the liquid get absorbed partially in the fabric before wearing them again.
Avoid storing/keeping your shoes in plastic bags for too long, which makes them sweat and smell bad.
Give your velvet shoes occasional professional cleanings – which is expensive – but this would help you maintain your shoes like new for longer periods.
How to Store Velvet Shoes Properly
Storing velvet shoes when you are not wearing them is a very important aspect of caring for your shoes. Here are a few tips to go about it:
Choose a box made from sturdy material, such as cardboard or plastic. Make sure the lid fits snugly on the box and that there is plenty of room inside, otherwise your shoes might get squished if you leave them in there too long.
Make sure that if there is a separate shoe compartment, it does not get wet stain when the lid of the box is closed.
Make sure to store your shoes in a cool and dry place, away from direct sunlight.
If you don't wear them often, consider covering them with tissue papers before storing. This would help protect the delicate fabric and keep them looking like new for longer periods.
Do not keep your velvet shoes stacked/piled up on one another as it can cause permanent creases on the fabric.
How to Stretch Velvet Shoe Width
Velvet shoes are extremely structured and stiff initially, but after wearing them they start conforming to your feet shape. They get more flexible over time with repeated usage. But for the initial stiffness of the fabric you can do few simple things like:
Wear thick socks when trying on new velvet shoes before deciding if you should exchange it for a larger size.
Walk around in the shoes for an hour or two before deciding if you should exchange it for a smaller size.
Stretch your new pair of velvet shoes by filling them up with newspapers and leaving them overnight, then wearing them again in the morning and repeating this process daily until they match your feet perfectly without any discomfort.
Our Top Picks for Best Velvet Shoes Cleaner and Care Accessories
How Often Should You Clean Your Velvet Shoes?
Everyone has different opinions on this subject. Some people say you should clean your shoes once per month while others think that cleaning them more frequently is better.
But if you want to keep your velvet shoes looking as good as new, a good practice would be cleaning them after every wear. This is because the dirt and grime from everyday use can cause damage to its appearance over time.
The Best Ways to Style Velvet Shoes for Any Outfit
Velvet shoes are perfect for any kind of occasion. Whether it's the holiday season or the summer months, you can go for velvet shoes to look great and achieve that stylish appearance.
Since they're versatile to style with different outfits, pairing them up is simple. Here are some outfit ideas:
Casual Outfits like Jeans and T-shirt
If you're planning to go out with friends or even for a casual dinner, wearing your favorite jeans and t-shirt is the perfect outfit idea. Matching it up with velvet shoes will give off that laidback appearance without sacrificing style!
Evening Relaxed Outfit
May it be attending an evening casual meeting or to your favorite restaurant, wearing velvet shoes give off that classy appearance.
Stylish Outfit for an Event
A well-tailored outfit is perfect for any kind of event like weddings and formal dinners. When it comes to dressing up, you can never go wrong with velvet shoes!
---
Can you machine wash velvet shoes?
No, you cannot machine wash your velvet shoes! This can damage the fabric and even cause permanent creases.
What materials should be avoided when cleaning velvet shoes?
The material that may damage your velvet shoes would be solvents like benzene, carbon tetrachloride, and acetone.
What happens if you put velvet shoes in a washing machine accidentally?
Putting your velvet shoes in a washing machine might sound like a great idea but it can greatly damage the fabric of your shoes. Not to mention the permanent creases! Instead, cover stains with a pre-wash stain remover then hand wash it with a gentle soap and warm water.
How to clean velvet shoes with baking soda?
Baking Soda naturally absorbs dirt, so if you're looking for an easy homemade method of cleaning your shoes just sprinkle some onto the fabric and let it sit for 5 minutes before brushing away the residue.
How to clean velvet shoes with salt?
To effectively remove dirt and build up on your velvet shoes, sprinkle some (careful with the amount!) salt onto the fabric then gently brush it away using a nail brush or soft toothbrush. Repeat this process until you achieve that shiny appearance!
Are velvet shoes hard to maintain?
Not really, when it comes to maintaining your cotton velvet shoes you just need to be mindful of how you're wearing them. If there are any areas that you feel is uncomfortable or hurting your feet, then remove that part of the shoe immediately. It's best to go barefoot inside the house only if necessary.
How do you dry clean velvet shoes?
Since there are modern dry cleaners that can handle your velvet shoes, you can easily drop it off for a quick cleaning process. Just make sure to check if they're offering a delicate cleaning service for other fabrics like silk and silk blend!
How do you clean velvet heels?
In order to clean your velvet heels, you can easily use a damp piece of cloth with mild soap on it then start wiping the velvet fabric. Continue doing this until a shiny appearance is achieved.
How do you remove black scuff marks from velvet shoes?
If you have dirty black scuff marks on your light colored velvet shoes, try using a black eraser and carefully rub over the affected area. Continue doing this until you're satisfied with its appearance.
How do you remove sticky stains from velvet shoes?
When it comes to removing sticky stains on your velvet shoes, a homemade paste made of baking soda and water is effective in lifting away those tough stains! Apply this mixture gently on the affected area then use a damp cloth to wipe off the excess mixture.
How do you remove yellow stains from velvet shoes?
To effectively remove those pesky yellow stains on your velvet shoes, simply combine 1 part vinegar with 2 parts water and apply an even layer on top of the stains. Now, let it sit for 10 minutes before rinsing off the mixture.
How do you clean pink velvet shoes?
To clean your pink velvet shoes, you can follow the exact same method for cleaning regular velvet but make sure to only use a light acetone-free nail polish remover.
How do you clean blue velvet shoes?
Just like a regular colored velvet fabrics, it's best to be mindful of what kind of material touches your blue or green velvet shoes. The best method is to only use a damp cloth and mild soap for keeping its appearance shiny and new!
How do you fix faded velvet shoes?
Since velvet shoe or velvet garments are made of natural materials, you can always try hand washing them with gentle soap and warm water then hang dry the shoes. If it's still not as shiny as before, then using a liberal amount of coconut oil onto your shoes would help restore its appearance!
How do you repair rips in velvet shoes?
Thankfully, many companies now make invisible labels where you can write your name and address. If you don't have one, try using a matching thread to cover the ripped seams as well as a needle and start stitching!
Can you wear velvet shoes in the rain?
No! Because water lowers the tensile strength of velvet, it can be damaged by constant exposure to rain.
---
Are you still curious and have some free time? Enjoy this interesting video about velvet shoe cleaning then:
Courtesy : SUPERGLAMOUROUS
---
To conclude, velvet shoes are amazing and can transform your appearance completely. Needless to say, you need to take good care of them so that they last long and also maintain their appearance like new for longer periods. Also the upkeep of these shoes is a lot more expensive as compared to other types of footwear.
With this article, we hope that you'll learn some tricks and tips on how to clean velvet shoes effectively. So consider following the above-mentioned simple tips and tricks to make your favorite shoes last for longer periods.
We are sorry that this post was not useful for you!
Let us improve our effort!
Tell us how we can improve our effort
Latest posts by Lance 'LeatherMan' Hackney
(see all)