Key Takeaways
Leather/suede/nubuck/rubber – whatever types of Timberland boots you have, keeping them clean is the key to longer boots' life and freshness.
Timbs can be cleaned easily at home with household items under 60 minutes (minus the overnight drying)
There are different kinds of materials to clean different kinds of stains on Timbs, but be very careful not to overdo it. Also, conditioning after cleaning + drying is the chef's secret juice for prolonged life of Timbs.
I bet you have a pair of Timbs in your closet, right?
Have you ever wondered how to clean Timberland boots like a pro and get rid of stains and other dirt quickly and easily or do you want your boot's performance or how they look enhanced?
If the answer is "yes", then we have got all the answers here.
Cleaning Timberland boots will not be difficult for you anymore. We will provide you with all the ways through which you can clean your beloved boots.
It doesn't matter whether your Timberland shoes or boots are leather, suede, rubber, or nubuck leather; we have got processes for them to help your boot look brand new.
We've got you covered. This article will teach you how to clean all types of timberland boots at home using household items.
---
Timberland is a popular brand that manufactures boots, shoes, sandals, and apparel. Their products are available in more than 70 countries of the world. They provide gear for outdoor activities like hiking, hunting, etc.  
The most important feature of their products is that they are durable due to the premium quality materials used in the manufacturing of their products. The Timberland boot is a popular choice of footwear across the globe.
There are various types of Timberland boots available. A few of them are mentioned below for your reference-
Leather Boot – These types of Timberland boots can be worn on an everyday basis for work to enhance your look.
Suede Boots – Suede boots provide good comfort to the foot due to their soft interior lining which is free from seams and is best suited for casual activities like hiking, biking, etc.
Nubuck Boots – These are similar to suede but they are made of finer grain leather to provide good protection from water, snow, and mud due to their waterproof exterior.
Rubber Boots – If you are looking for Timberland boots that can be worn in rainy, snowy, or muddy conditions then rubber boots are best suited to buy.
So Why It is Important to Keep Your Timbs Clean?
Well, who doesn't want a pair of boots that looks fresh and lasts longer? I bet you also want the same. So cleaning your Timbs is important, because:
How can you prolong the lifespan of your boots if you don't clean them frequently or at least once a month? So, cleaning Timberland boots will help in increasing their life and also enhance their performance.
It is important to maintain the beauty, freshness, and hygiene of your Timbs.
It can protect your skin from smelling like cat pee, or even prevent fungal infection if you clean your boots.
How to Clean Timberland Boots at Home without Ruining Them
It's not rocket science!
It is relatively simple to clean and take care of your Timbs at home using household items, whether it's a pair of traditional Timberland boots or stylish Timb shoes.
The process for cleaning Timberland boots is different for each type, so we have divided the tutorial into 3 different categories for Leather Timberland boots, Suede/Nubuck Timberland boots, and Rubber Timberland Boots.
How to Clean Leather Timberland Boots in 9 Easy Steps
1. Time Required: 60 minutes (+ overnight drying)
2. Budget Required: $5-$10
3. Difficulty Level: Easy to Medium
4. Supplies Required:
Baby wipes/Microfiber soft cloth
Dish soap
Saddle soap
Lemon Juice/Vinegar
Baking Soda/Cream of Tartar
Paper towel/sponge
Moisturizing soap, Leather Honey, or mink oil
Preparation: You can prepare the cleaning mixture by mixing dish soap and warm water in a bucket. Keep the other supplies within reach. Remove the laces and insoles (if removable) before starting the process of leather boots clean.
Step 1 – Primary Cleaning
Take a microfiber cloth/Baby Wipe and gently wipe clean the upper part of the boot by dipping it in soapy water.
Step 2 – Cleaning with Detergent
Mix warm water and dish soap in a bowl/bucket. Take the mixture and dip your cloth into it, then gently wipe off all dirt from the boot.
Step 3 – Remove Dried Mud
If there is mud dried on the upper part of your boot, take some ice cubes and put them inside a plastic bag. Now apply pressure on the ice cubes for a few seconds and then apply it to the affected area. Wipe the surface with moist wipes afterward.
If you need to, you can also use wet sponges or paper towels dipped in soapy water and gentle scrubbing will remove dirt/mud particles stuck between the crevices of your Timberland shoes or boots.
Saddle soap
is a good option for cleaning dirty leather shoes or boots. So take Saddle soap and apply a generous amount on the upper part of the boot and wait 15 minutes before you start wiping off with a damp cloth.
Step 6 – Clean Timberlands with Vinegar and Baking Soda for Harsh Spots
Mix lemon juice/vinegar with cream of tartar/Baking soda in a 2:1 ratio in a bowl, stir it until it is well mixed, and apply the paste on the boot surface with another microfiber cloth. Rub it in a circular motion throughout the surface until it is evenly applied. Keep it like this for 10 minutes and then wipe the whole surface with a wet wipe/microfiber cloth.
Step 7 – Moisturizing and Conditioning (optional)
Conditioning and Moisturizing leather boots
are equally important as
cleaning boots
to prolong your boots' life span and beauty. Grab your moisturizing soap and make it foamy and lathery under running water. Then wipe the bar all over the surface of the boots and rub gently with a microfiber towel in a circular motion until evenly applied. Keep it for 30 minutes like this and then wipe it all over with a wet wipe/microfiber cloth
Step 8 – Next Level Conditioning (optional)
You can also use proprietary items afterward like Leather Honey, Shoe Grease, or Mink Oil to condition leather to the next level. Also, use Shoe Grease to add waterproofing oil-tanned leather boots in addition to conditioning.
Dab a paper towel to absorb water from the surface of boots and then let them naturally dry overnight in a well-ventilated place.
Caution:
* Do not use a hairdryer at high settings or put boots very close to a direct heat source to dry off your leather boots as it can damage the material. 
** Do not dip your leather boots in soap-water solution, instead use the wipes to apply on the boot.
---
1. Time Required: 60 minutes (+ overnight drying)
2. Budget Required: $5-$10
3. Difficulty Level: Medium
4. Supplies Required:  
Suede brush/soft-bristled brush (or toothbrush with soft bristle)
Corn starch/baking soda
Lemon juice/vinegar
Paper towel
Microfiber soft cloth
Wet wipes
Leather Honey or a good suede conditioner
Commercial Suede and Nubuck cleaner (optional)
Preparation: Arrange supplies and keep them within reach. Remove the laces and insoles (if removable) before cleaning.
Before you start, clean your boots with a soft suede brush or an old soft-bristled toothbrush! Any surface debris will be removed, allowing your cleaner to work more easily. If there are stains or marks on your suede, gently brush them away (but make sure the bristles are soft!) and rub them in. Don't scrub.
Step 2 – Remove Minor Spots
Small scratches or scuff marks may be removed with a suede rubber eraser or a regular pencil eraser. Try not to be too aggressive because you don't want to go too far; you don't want to scratch the smooth finish.
Step 3 – Go Extra Mile for BadBoy(!) Spots and Stains
If you have a harder to remove spots or stains, mark the area first. if the stain is oily or greasy and still not hard, then apply some baking soda or corn starch onto the spot. rub the powdery elements gently on the area and let it sit for a while. After a while using the suede brush to brush off the surface and wipe off extra elements with a moist microfiber cloth or wet wipes.
Step 4 – It's Citrus Time
Take some lemon juice or vinegar and moisten a microfiber cloth with that. Gently dab and rub the stained area of the boot in a circular motion. After keeping aside like this for 15 minutes, wipe the surface.
Keep the boots away overnight for natural drying.
Step 6 – Don't Forget to Condition
Once they're as dry as feasible,
condition your suedes
. Remember that this step is entirely optional, but conditioning your suede shoes will help to considerably extend their life! Conditioner for suede shoes(e.g.
Leather Honey
) can be found in most shoe shops, or you may make your own with beeswax.
Cautions:
Do not rub liquid conditioner onto suede shoes and boots. Instead, apply it in a very thin, even layer and let it dry overnight.
---
How to Remove Specific Stains from Timberland Boots
If your Timbs have been stained by the following, then you have to check their removal process in advance before using any of the following methods.
Get Grease, Oil, or Tar Out of Timberland Boots
Drop vinegar with some brushing on the stained area and let it for an hour or so at least. Then scrub softly with a toothbrush until stains are loosened. And then wipe them off with moist microfiber cloths. Allow drying in natural air overnight.
Get Acidic Stains (e.g. mustard, ketchup) Out of Timberland Boots
Also, drop vinegar with some brushing on the stained area and let it for an hour or so for at least 1-2 hours. Then scrub softly with a toothbrush until stains are loosened. And then wipe them off with moist microfiber cloths again. Allow drying in natural air overnight.
Get Blood Out of Timberland Boots
Use the following steps for cleaning blood stains out of your boots. And then clean them off with moist microfiber cloths again.
First of all, brush away any excess dried blood on the shoes before you do anything else. Next, cover the stain with some cornstarch or baking soda and let it sit for about an hour. Once it's been on for a while, add some water to the area and rub off the baking soda or cornstarch before wiping clean with a wet cloth. Allow drying in natural air overnight.
Get Wine or Alcohol Stains Out of Timberland Boots
Dab some lemon juice or vinegar on the stained area and let it for around 10 minutes. Then brush your suede softly with a suede brush to remove stains. And then wipe them off with moist microfiber cloths again. Allow drying in natural air overnight after this step.
How to Clean Soles of Timberland Boots
Cleaning the soles of Timbs is equally important to clean the exterior and interior, but it is often neglected.
Clean Timberland Boots Sneaker Soles
If your boots have sneakers soles, you can use a soft-bristled brush or an old toothbrush to remove surface dirt and stains.
If they're still dirty after cleaning them off with a brush (and this should take no more than 1-2 minutes), then wipe them down with some cleaning liquid or soap on a damp cloth.
Clean Timberland Boots Lug Soles
If your boots have lug soles, then it is wise to clean the lugs separately. How? With a toothbrush dipped in liquid dishwashing liquid and water – moisten the brush, scrub the lug treads with some brushing, rinse them carefully using a damp cloth or sponge, then let your boots dry naturally.
Clean Timberland Boots Rubber Soles
First, dust off dirty soles with a dry, soft brush. If there are stains on your rubber soles, try using baking soda or cornstarch to gently rub them away! The soles of your boots are porous, so these dry elements will soak up any dirt or grime on them.
Clean Leather Soles of Timberland Boots
If Timberlands have leather soles, you can clean the soles by scrubbing them with a small stiff brush dipped in warm water and dishwashing liquid or saddle soap. To clean the top of the boots, start by brushing off any debris.
Next, dampen a sponge with lukewarm water. Add some non-bleach laundry detergent to the sponge if desired. Don't use bleach because it will damage the leather.
Gently wipe your Timberland's leather with a damp sponge. Dry off your boots with a clean, dry cloth, and then let them sit in a warm area for about an hour to make sure they are completely dry before wearing them again.
How to Clean Laces of Timberland Boots
You can clean laces by dipping them in soapy water or cleaning liquid. How?
First, moisten the lace with some warm water. And then dissolve dishwashing liquid into hot water and mix them well. Pour the soap-and-water mixture over your laces to thoroughly cover them.
Allow it for an hour or so. Then, take them out and rinse the soap off with warm water.
How to Clean the Interior of Timberland Boots
Last but not least cleaning is cleaning the inside of your boots. Cleaning and caring for the inner parts of boots are especially very important for healthy feet and smell-free attire. Follow the steps below to make it happen:
Dampen a cloth with warm water and dissolve some mild soap or shampoo into this soapy water. Mix 1-2 teaspoons of mild shampoo in a quart/liter of warm water to make the soapy solution.
Next, sparingly wet the cloth with this soapy water and wipe the inside part of your boots. This will help eliminate odors and provide a clean, fresh interior.
You can use some very popular shoe odor removers also at this stage.
Let it be for around 30 minutes. Remove the insoles from your boots to let them air dry in an open area. Place them upright or at their side, overnight.
Pro-tip: Repeat this inner parts cleaning process at least once a week to maintain healthy feet.
How Often Do You Need to Clean Your Timberland Boots?
Cleaning is a process that should be done every time you wear your boots, at least cleaning the dust and dirt, but a more thorough cleaning should happen around once a week. This will help to extend the life of your boots and keep them looking their best.
Store Your Timberland Boots Properly – Don't Neglect Storing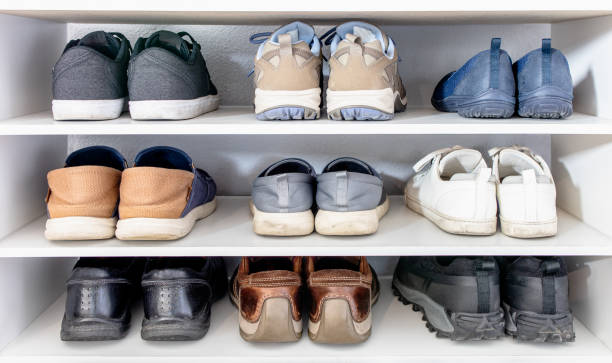 Once you have cleaned your Timbs, it is very important to store them properly so that they last longer.
How?
To prolong the life of your boots and keep them in tip-top condition, it's recommended that you use shoe trees or boot shapers.
You should also store your boots in a cool, dry place away from direct sunlight or near any heat source, as this can damage the material. .
Stuffing newspapers inside them can help absorb moisture and keep their shape.
You can also rotate wearing your boots to give them time to air out and recover from being worn. This will help prolong their lifespan.
Frequently Asked Questions
How do you restore Timberland suede?
To restore the color of your Timberland boots, you can use a shoe polish or leather conditioner or professional suede restoration kit that matches the color of your boots. Apply it evenly with a soft cloth and let it dry.
Can I use WD-40 to clean my Timberland boots?
Yes, you can use WD-40 to clean your Timberland boots, but with extreme care and specific types of tough stains like – grease, oil, rust etc. Just spray it on and wipe away any dirt or grime with a clean cloth.
Can you get suede timberlands wet?
Yes, you can get suede Timberland boots wet, but you should avoid it if possible because water can damage the material. If your boots do get wet, stuff them with newspaper to help absorb the moisture and let them dry in a cool, dry place away from direct sunlight or heat.
---
A very easy-to-follow and informative step-by-step Timberland boots' cleaning video is here, enjoy!
Courtesy: SneakerHeadInTheBay
---
We hope you enjoyed this article on How to Clean Timberlands at Home With Household items. Timberland boots are a great investment, and with proper care, they can last for years.
Remember to clean them regularly, both inside and out, to keep them looking and smelling fresh.
And don't forget to store them properly when you're not wearing them.
Have a nice day!
We are sorry that this post was not useful for you!
Let us improve our effort!
Tell us how we can improve our effort
Latest posts by Lance 'LeatherMan' Hackney
(see all)