Key Takeaways
Danner boots, 'The American Trademark of Elegance', have a rich history and have evolved into a popular footwear choice in America due to their comfort, durability, and quality. They have a strong environmental policy and are committed to sustainability.
If you have reached this page to know the answer to if Danner boots are really good or not, the short answer for you is – YES, they are damn good! Some folks may be a bit careful to straight away admit it due to the little higher price tags. But believe me, Danners really worth every penny.
Now as you know the bottom line, don't just close your browser. Because we have a lot to discuss about these 'American-made' elegant boots.
When I think of top-notch artistry, my immediate thought is of the treasures found right in my own backyard. A staggering amount of footwear in the U.S. is now manufactured abroad. However, a few brands, like Danner Boots, still embrace traditional craftsmanship on American soil.
Danner boots have always been a personal favorite. They not only support American workers and families but also stand as a testament to durability and design. My journey through the world of footwear has introduced me to brands from various corners of the globe, from Indonesia and China to Spain and England.
Yet, amidst this international array, a question often lingers: aren't there boots still crafted in America?
And here comes the Danner Boots!
So, if you're looking for more than just a boot, if you're seeking a partner in crime for life's great escapades, well, you're in the right place. It may seem a bit dramatic to me, but trust me – your Danner pair will serve you more than that.
Let us go through my honest Danner boots review below.
Danner Boots: Tracing the Legacy
The journey with Danner wasn't just about the boots; it was about the stories they carried. Every scuff and crease became a testament to the miles walked and the adventures embarked upon.
Yes, Danner boots aren't just footwear; they're a narrative, a slice of Americana, waiting to be woven into your own tale.
Danner's story begins not in a grand factory or a flashy showroom, but in the humble heartland of America. Founded in 1932 by Charles Danner, this brand was birthed in the midst of the Great Depression.
While most were tightening their belts, Charles had a vision: to craft boots that were not only durable but also affordable. A bold move, some said, but Charles was not one to be deterred by naysayers.
Chippewa Falls, Wisconsin, was the first home to Danner. Here, amidst the rolling hills and serene lakes, the first Danner boots were crafted. They were simple, sturdy, and reliable – a reflection of the hardworking folks of the Midwest. But as the years rolled on, Danner's reputation began to spread far beyond the boundaries of Wisconsin.
In the 1940s, the call of the West beckoned, and Danner moved its operations to Portland, Oregon. The Pacific Northwest, with its rugged terrain and unpredictable weather, was the perfect testing ground. Danner boots, with their impeccable craftsmanship, soon became a favorite among loggers, hikers, and outdoor enthusiasts.
In 1994, another giant in the industry, LaCrosse, acquired Danner boots. But the look, feel, aesthetics, and elegance have been the same as old classy Danner.
The legacy of Danner isn't just about the boots they produce but the values they uphold. A commitment to quality, a respect for craftsmanship, and a deep-rooted belief in the American spirit. As we trace the footsteps of this iconic brand, we're not just exploring a product; we're delving into a rich tapestry of history, innovation, and unwavering dedication.
Why Danner Stands Out
So folks, in a world brimming with footwear choices, what makes Danner rise above the rest?
It's not just about the leather, the stitches, or the sole. It's about the soul of the brand, the essence that's been cultivated over decades.
Unwavering Quality: Every Danner boot is a testament to meticulous craftsmanship. From selecting the finest full-grain leathers to ensuring each stitch is in its rightful place, no detail is too small to overlook.
Innovation at its Core: While Danner respects tradition, they're not bound by it. Over the years, they've seamlessly integrated modern technologies, from GORE-TEX linings for waterproofing to Vibram soles for unmatched grip. This blend of old-world craftsmanship and new-age innovation is what makes each boot a masterpiece.
Eco-Conscious Efforts: In the heart of the Pacific Northwest, nature isn't just a backdrop; it's a way of life. Danner's commitment to sustainability is evident in its eco-friendly practices, from sourcing sustainable materials to minimizing waste in production.
Versatility Personified: Whether you're scaling mountain trails, navigating city streets, or working on a construction site, there's a Danner boot tailored for the occasion. Their range isn't just diverse; it's thoughtfully curated to cater to varied terrains and lifestyles.
A Legacy of Trust: Trust isn't built overnight. It's earned, stitch by stitch, boot by boot. For those who've worn a Danner, it's not just a piece of footwear; it's a bond, a trust in a brand that's stood the test of time.
Danner isn't just about creating boots; it's about setting a gold standard in footwear. It's a promise that with every step you take, you're not just wearing a boot; you're carrying forward a legacy of excellence.
Danner's Signature Features
Over the years, Danner has introduced some signature features keeping its traditions intact to embrace technological advancements.
Some of the signature features that make Danner boots a class apart are:
Stitchdown Construction: One of Danner's hallmark features, stitchdown construction offers increased stability underfoot. The leather uppers are flared out and then stitched to the insole board, providing a wider platform and, consequently, more stability. This method also allows for the boots to be re-soled, extending their lifespan.
GORE-TEX® Lining: Come rain, snow, or shine, Danner boots are ready. Thanks to the GORE-TEX® lining, these boots are not only waterproof but also breathable. Your feet stay dry, no matter what Mother Nature throws your way.
Vibram® Outsoles: Traction is paramount, whether you're hiking up a slippery slope or navigating a muddy trail. Danner's partnership with Vibram® ensures that their boots are equipped with outsoles that provide superior grip, stability, and durability.
Full-Grain Leather Uppers: Quality starts from the outside. Danner uses only the finest full-grain leathers, known for their durability and ability to mold to the shape of the foot over time. This ensures a comfortable fit that gets better with every wear.
Bi-Fit Board: Integrating the shank, lasting board, and midsole into a single unified piece, the Bi-Fit board ensures that the boot retains its rigidity in the heel and arch while reducing weight and increasing underfoot comfort.
OrthoLite® Footbeds: Comfort is paramount, and Danner understands this. Their OrthoLite® footbeds provide cushioning, breathability, and antimicrobial properties, ensuring your feet stay comfortable and fresh throughout the day.
Handcrafted Precision: In an age of mass production, Danner stands firm in its commitment to handcrafted precision. Many of their boots are still made in their Portland factory, where skilled craftsmen and women bring the Danner legacy to life, one boot at a time.
Exploring the Danner Range
Danner's lineup is as diverse as the terrains and lifestyles they cater to. Each boot is meticulously crafted, not just to meet but to exceed the demands of its intended environment.
Let's have a look at the varied range of Danner boots:
Work Boots: Built for the hardworking individual, Danner's work boots are the epitome of durability and comfort. Whether you're on a construction site or in a workshop, these boots, with steel toes and other safety toes, offer protection without compromising on flexibility. Key models include the 'Quarry' and the 'Bull Run'.
Hiking Boots: For the adventurer at heart, Danner's hiking boots are designed to tackle any trail. Lightweight, supportive, and equipped with superior traction, they're your perfect companion for mountain treks or forest trails. Popular choices are the 'Mountain Light' and 'Trail 2650'.
Hunting Boots: Stealth, stability, and protection are crucial when you're out in the wild. Danner's hunting boots, like the 'Pronghorn' and 'High Ground', offer just that, ensuring you can focus on the hunt while they take care of your feet.
Military & Tactical Boots: Precision and reliability are paramount in tactical situations. Danner's military boots, such as the 'Tachyon' and 'Acadia', are crafted to offer optimal performance, agility, and protection in demanding environments.
Casual Boots: For those days when you're not scaling mountains or trudging through mud, Danner's casual range offers style without skimping on comfort. The 'Jag' and 'Bull Run Moc Toe' are perfect examples of boots that blend urban aesthetics with Danner's signature quality.
Lifestyle & Heritage Collection: Paying homage to their roots, Danner's heritage collection showcases boots that are timeless in design, reflecting the brand's legacy. The 'Mountain Pass' and 'South Rim 600' are standout pieces that marry vintage charm with modern functionality.
Women's Collection: Danner understands that women need boots tailored to their unique needs. Whether it's for work, hiking, or casual wear, Danner's women's collection, featuring models like the 'Adrika' and 'Mountain 600', ensures a perfect fit, impeccable style, and unmatched comfort.
Choosing the Perfect Danner Boot
With Danner's vast range, the choices might seem overwhelming. Here's a guide to help you pick the perfect Danner boot for your needs:
Purpose Matters: Begin by identifying the primary purpose of the boot. Are you looking for rugged work boots, lightweight hiking companions, or stylish casual wear? Pinpointing the main use will narrow down your options considerably.
Terrain and Climate: Consider the environment you'll be navigating. For wet and muddy conditions, opt for boots with waterproof features like GORE-TEX®. If you're heading into snowy terrains, insulation is key. For rocky or uneven grounds, prioritize boots with superior traction and ankle support.
Fit is King: A boot's performance is heavily influenced by its fit. Danner boots come in various widths, ensuring there's a fit for every foot. Remember to account for the thickness of the socks you'll be wearing. It's always a good idea to try them on in the late afternoon when feet are at their largest.
Material Considerations: Full-grain leather offers durability and a classic look, while nylon or synthetic materials provide more breathability. Decide based on your preference and the conditions you'll be facing.
Break-in Period: Some boots, especially those made of full-grain leather, might require a break-in period. If you're planning a trip or an activity, ensure you wear them beforehand to avoid discomfort.
Budget Constraints: While Danner boots are an investment in quality, it's essential to find a pair that fits within your budget. Remember, the most expensive boot isn't necessarily the best one for your needs.
Read Reviews: One of the best ways to gauge a boot's performance is by reading reviews from other users. This provides real-world insights into the boot's comfort, durability, and any potential issues.
Maintenance and Care: A good boot will last years, if not decades, with proper care. Consider how much maintenance the boot requires and ensure you're up for the task. Regular cleaning, conditioning, and occasional waterproofing will keep your Danner boots in prime condition.
---
Top Danner Boots for Every Boot Lover (These are most Popular and Comfortable too)
Navigating the vast world of Danner can be a delightful challenge, given the brand's rich offerings. But for those who seek the crème de la crème, here's a curated list of Danner's standout boots for both men and women:
For the Rugged Workers: Most Comfortable and Most Durable Safety Toe Danner Boots
1. Danner Bull Run Moc Toe 6″ Brown Steel Toe (For Men)
The Danner Bull Run epitomizes a practical work boot, boasting a classic design that remains fashionable long after your day ends. Its upper, crafted from premium full-grain leather, strikes a balance between durability and suppleness. Paired with the robust Danner Wedge outsole, it promises enduring comfort throughout the day.
Features: Made in the USA with a durable, oiled, full-grain leather upper, this steel safety toe boot offers a cushioning OrthoLite footbed, a steel shank, Danner® Wedge oil, and slip-resistant outsole, and ASTM F2413-18 I/75 C/75 EH safety rating. It also features a handcrafted, stitch-down construction for strength and stability.
Why I chose this boot: Its classic design combined with durability, comfort, and modern safety features makes it a top choice for many workers.
How it Fits: It is tailored for models featuring a safety toe, presenting a slim profile while ensuring room for the toe cap. While it best suits individuals with narrower feet, ensuring stability and support, those with broader feet should consider the "EE" (wide) variant in this design.
Pros: Durable, comfortable, steel-toe protection.
Cons: Might be a bit heavy for some users.
What users are saying: Rating – 4.6, User reviews – 952, Source – Danner official site
2. Danner Vicious 4″ Brown/Green Composite Toe (NMT) (For Women)
Utilizing premium materials like GORE-TEX and Vibram in a lightweight design, Danner Vicious NMT Boots for women are indeed very durable work boots that are comfortable even after long hours. This innovative design ensures a snug heel fit while providing extra toe space, especially for feet bearing heavy loads, and includes a dual-density EVA midsole for enhanced comfort and shock absorption.
With features like an oil-resistant outsole, a protective heel cap, an all-leather exterior, a non-metallic safety toe, and a waterproof GORE-TEX lining, it's suitable for both indoor and outdoor demanding tasks.
Features: Designed with durable waterproof leather, dual-density EVA cushioning, shock-absorbing midsole, Vibram® Vicious oil and slip-resistant outsole, and ASTM F2413-18 I/75 C/75 EH safety rating. It also has a 90-degree heel and a patent-pending plush dual-density footbed for cushioning.
Why I chose this boot: It offers a good balance between comfort, safety, style, and durability for women.
Pros: Comfortable, durable, waterproof, and safe.
Cons: Might not be suitable for extremely rugged terrains.
What users are saying: Rating –

4.6

, User reviews – 106, Source – Danner Official site
---
The Avid Hiker's Choice: Best Most Comfortable Danner Hiking Boots
3. Danner Mountain 600 4.5″ Hiking Boot for Men
A lightweight, superior grip and unmatched comfort make this the go-to choice for trail enthusiasts.
Features: The Mountain 600 is a versatile hiking boot that combines classic styling with lightweight innovation. It boasts a waterproof suede upper, a Vibram SPE midsole for maximum rebound, and a Vibram Fuga outsole with self-adaptive lugs ensuring grip on wet and dry surfaces.
Why I chose this boot: Its blend of traditional aesthetics with modern performance features makes it a top choice for hikers and outdoor enthusiasts.
Pros and cons:

Pros: Lightweight, excellent grip, stylish design.
Cons: Might require a break-in period.

What users are saying: Rating –

4.3

, User reviews – 3269, Source 1 – Danner site, Source 2 – Amazon
4. Danner Women's Adrika Hiker
With its plush cushioning and stylish design, it's both functional and fashionable for the trails.
Features: The Adrika Hiker is tailored for women, offering a modern design with performance features. It has a suede upper, plush cushioning for all-day comfort, and a Danner Adrika outsole for optimal traction.
Why I chose this boot: Its combination of style and functionality makes it a favorite among women hikers.
Pros and cons:

Pros: Stylish design, comfortable cushioning, durable.
Cons: Might run narrow for some.

What users are saying: Rating – 4.3, User reviews – 304, Source – Danner site
---
Urban Explorer: Top Most Comfortable Danner Boots for All Purposes
5. Danner Skyridge Dark Earth (For Men)
The Danner Skyridge Dark Earth boot, inspired by Danner's hiking heritage, combines modern aesthetics with functionality, perfect for urban and outdoor adventures. With its durable suede and cotton ripstop upper, waterproof Danner Dry lining, and versatile Danner Jadical outsole, it promises uncompromised comfort and performance across terrains.
Features: The Skyridge boasts a suede and cotton ripstop upper, ensuring durability and a comfortable fit right out of the box. Its Danner Dry lining guarantees 100% waterproofing while allowing moisture to escape, ensuring your feet remain dry and comfortable throughout the day. The boot also comes with two lace options, allowing users to customize their look.
The removable OrthoLite footbed and EVA midsole provide excellent cushioning and support, making it suitable for both short hikes and long urban explorations. The Danner Jadical outsole, made entirely of rubber with multi-directional lugs, ensures that the boot is ready for any terrain, be it town or trail.
Why I chose this boot: The Danner Skyridge Dark Earth is a perfect blend of style, comfort, and functionality. Its versatile design means it can transition seamlessly from city streets to mountain trails, making it a valuable addition to any footwear collection.
Pros: Lightweight and versatile design, durable suede and cotton ripstop upper, 100% waterproof with Danner Dry lining, excellent cushioning with OrthoLite footbed and EVA midsole, Danner Jadical outsole suitable for various terrains
Cons: Might require some break-in time for some users, and the modern aesthetic might not appeal to everyone
6. Danner Women's Jag
Danner Women's Jag – A modern twist on a classic design, it's versatile enough for city adventures and light hikes.
Introduced in the 1980s, the Danner Jag was initially a lighter counterpart to our traditional rugged hiking boots, but took a hiatus after its early trail adventures. Now, three decades later, the revamped Jag offers versatility for both trails and urban settings, boasting lightweight durability, a cushioned EVA midsole, and a terrain-adapting waffle outsole.
Features: The Jag is a reimagined version of a classic '80s Danner style. It's versatile, designed for both urban and outdoor environments. It features a lightweight, breathable mesh lining, a cushioning OrthoLite footbed, and a Danner Waffle outsole for optimal traction. It is constructed with 66% Recycled PET & 34% Seawool material.
Why I chose this boot: Its retro design combined with modern features makes it a versatile choice for various terrains.
Pros and cons:

Pros: Versatile, breathable, stylish retro design.
Cons: Might not be as durable as other Danner models.

What users are saying: Rating –

4.5

, User reviews – 468, Source – Danner site
---
For the Tactical Professional: Top Most Comfortable Danner Boots for Military and Combat
7. Danner Tachyon 8″ GTX
Danner Tachyon 8″ GTX – Lightweight, agile, and waterproof, it's designed for those who need to be quick on their feet in combat and demanding situations.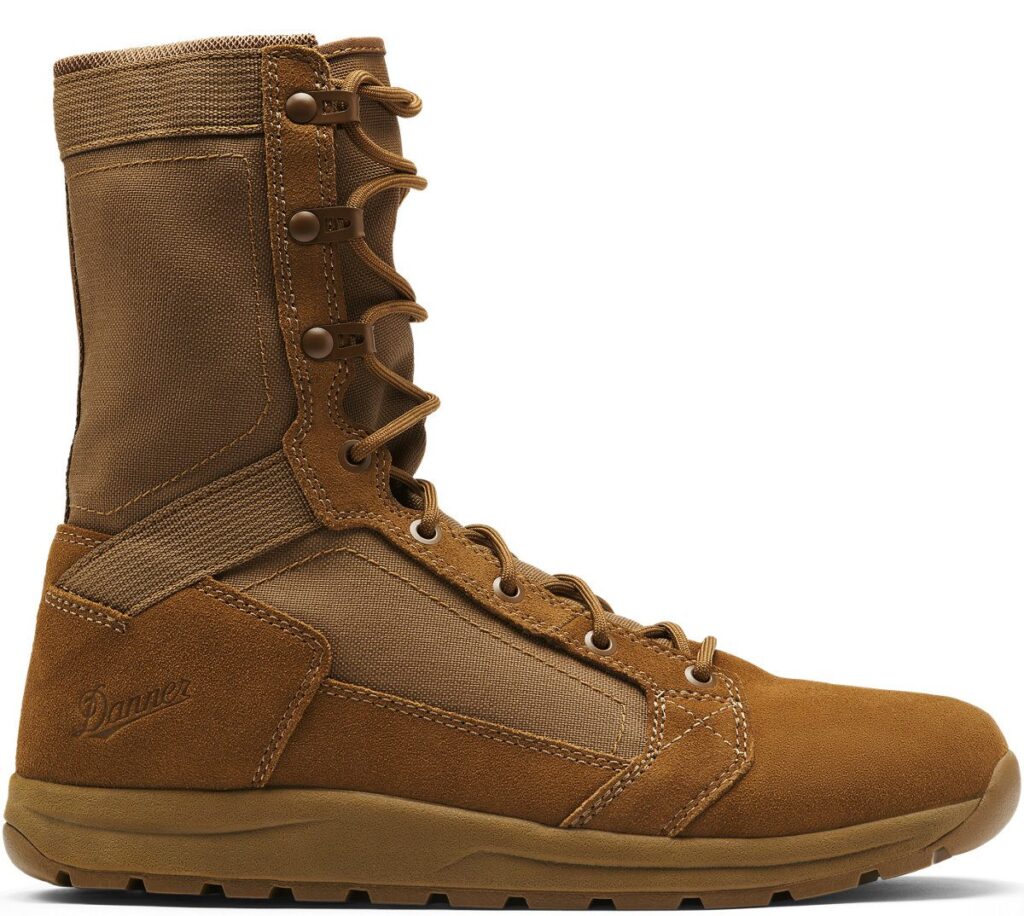 Features: The Tachyon 8″ GTX is a lightweight tactical boot designed for agility and speed. It boasts a synthetic ultra-light upper, a GORE-TEX liner for waterproof protection, and a speed lacing system for a secure fit. The boot also features a pentagonal lug pattern on the outsole for optimal surface contact and grip.
Why I chose this boot: Its lightweight design combined with waterproof capabilities makes it ideal for tactical operations in various conditions.
Pros and cons:

Pros: Ultra-lightweight, waterproof, quick lacing system.
Cons: Might lack the insulation needed for extremely cold conditions.

What users are saying: Rating –

4.6

, User reviews – 739, Source – Danner site
8. Danner Women's Prowess Combat Boots
Danner Women's Prowess – Tailored for the female foot, it offers the perfect balance of performance and comfort in tactical environments.
Features: The Prowess is a military-inspired boot tailored for women. It offers a side zip for easy entry and exit, a suede and nylon upper for durability, and a special lug pattern for improved acceleration and braking.
Why I chose this boot: Its blend of style and functionality is tailored specifically for women in the military or tactical professions.
Pros and cons:

Pros: Easy entry and exit, durable construction, improved traction.
Cons: Might run narrow for some.

What users are saying: Rating –

4.4

, User reviews – 91, Source – Danner site
---
The Heritage Enthusiast
9. Danner South Rim 600 for Men
Danner South Rim 600 – A nod to Danner's legacy, it combines vintage charm with modern functionality.
Features: The South Rim 600 is a lightweight hiking boot that offers a breathable mesh lining, a Vibram outsole for superior grip, and a suede and nylon upper for durability. It also features a cushioning open-cell OrthoLite footbed for all-day comfort.
Why I chose this boot: Its lightweight design combined with essential hiking features makes it a top choice for trail enthusiasts.
Pros and cons:

Pros: Lightweight, breathable, superior grip.
Cons: Might require a break-in period.

What users are saying: Rating –

4.4

, User reviews – 349, Source – Danner site
10. Danner Women's Mountain Light Cascade
Danner Women's Mountain Light Cascade – Inspired by the iconic hiking boot, it's a blend of timeless design and contemporary comfort.
Features: This boot is a tribute to Danner's iconic hiking boot from the 1970s. It boasts a full-grain leather upper, a Vibram Kletterlift outsole for optimal traction, and a waterproof GORE-TEX liner.
Why I chose this boot: Its classic design combined with modern features makes it a favorite among women hikers who appreciate both style and functionality.
Pros and cons:

Pros: Classic design, waterproof, durable.
Cons: Might be on the heavier side for some.

What users are saying: Rating –

4.6

, User reviews – 294, Source – Danner site
---
Where are Danner Boots Made?
Danner has a rich heritage of crafting boots in the United States. Founded in 1932, the company has maintained its commitment to producing high-quality footwear.
While they have expanded their operations over the years, a significant portion of their boots are still manufactured in the USA. This commitment to domestic production ensures that they maintain strict quality control and craftsmanship standards, which is a hallmark of the Danner brand.
How Do Danner Boots Fit? Does Danners Run Big or Small?
The fit of Danner boots can be quite subjective and varies across their range of models. For instance, while the Danner Tachyon might have a roomier toe box, another model like the Danner Mountain 600 might offer a different fit experience.
It's essential to note that, like many boot manufacturers, the fit can be influenced by the boot's intended use, materials, and design. Some users might find a particular model to run true to size, while others might feel it runs a bit small or large. It's always a good practice to consult Danner's official sizing guide or customer reviews to get a clearer picture of how a specific model might fit.
How Durable are Danner boots?
Danner boots are renowned for their durability. Crafted with the finest leathers and undergoing rigorous testing, these boots are designed to withstand the test of time.
Many users have reported that their Danner boots have held up well even after several years of use. For instance, some boots, like the Mountain Pass, have been known to remain in good condition even after 4+ years of hiking and backpacking.
The company's commitment to quality is further evidenced by its provision of boots to the U.S. Military and law enforcement agencies. The use of high-quality materials and meticulous craftsmanship ensures that Danner boots can handle tough terrains and demanding conditions.
Are Danner Boots Worth the Money?
Absolutely!
Danner boots are often seen as an investment in quality. While they might come with a higher price tag than some other brands, the longevity, comfort, and performance they offer make them worth every penny.
The belief is simple: invest in high-quality items and take care of them to ensure years of usage. If you maintain your Danner boots well, they can serve you for many years, offering value for money in the long run. Moreover, supporting a brand that emphasizes ethical practices and local manufacturing can also be seen as a worthy investment.
How to Take Care of Leather Danner Boots?
Taking care of leather Danner boots is essential to prolong their lifespan and maintain their appearance. Start by cleaning the boots with a soft brush to remove dirt and debris. For deeper cleaning, use a leather cleaner or a damp cloth.
Once cleaned, it's crucial to condition the leather to prevent it from drying out and cracking. Use a quality leather conditioner and apply it evenly. If the boots get wet, let them dry naturally, away from direct heat sources.
Additionally, consider using a waterproofing treatment to enhance the boots' resistance to water. Regularly checking the soles and getting them repaired if they show signs of wear will also extend the boots' life.
How Safe Danner Boots Are at the Workplace?
Danner boots are designed with safety in mind, especially their work boot range. They offer features like slip-resistant outsoles, protective toe caps (steel or composite), and electrical hazard protection, making them suitable for various workplace environments.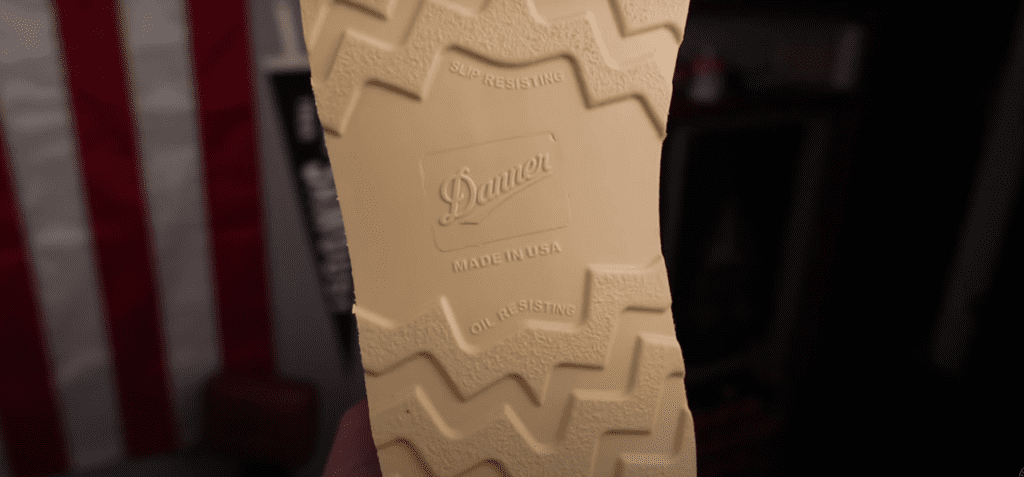 The boots' sturdy construction ensures that they provide ample support, reducing the risk of injuries. Moreover, Danner's collaboration with tech companies like Vibram and Gore-Tex ensures that the boots offer grip on slippery surfaces and are waterproof, respectively.
Are Danner Boots Comfortable?
Comfort is one of the cornerstones of Danner's design philosophy. They incorporate various technologies and design elements to ensure wearer comfort. For example, the Danner Vicious model is known for its ergonomic design that mimics the foot's natural shape, providing a more snug and comfortable fit.
On the other hand, models designed for hiking or outdoor activities might come with additional cushioning and support features to handle the rigors of the trail. However, as with any footwear, the perception of comfort can be quite personal, and what feels comfortable to one person might not be the same for another.
Are Danner Boots Waterproof?
Danner offers a range of waterproof boots designed to keep your feet dry in wet conditions. They often collaborate with trusted brands like Gore-Tex to incorporate waterproof membranes into their boots.
For instance, the Danner Crater Rim model boasts a waterproof Gore-Tex lining, ensuring that water stays out while allowing sweat and moisture to escape. However, it's worth noting that not all Danner boots are waterproof. When shopping, it's crucial to check the boot's specifications to determine if it meets your waterproofing needs.
How Long Do Danner Boots Take to Break in?
The break-in period for Danner boots can vary based on the model and the materials from which they are made. Leather boots, such as the Danner Quarry, might require a more extended break-in period compared to models made from lighter or more flexible materials.
During this period, the leather softens and molds to the shape of the wearer's foot, enhancing comfort. It's advisable to wear new boots for short durations initially, gradually increasing the wear time. This approach allows the boots to adapt to your feet and can help prevent blisters or discomfort.
---
Danner Dry vs GORE-TEX: Which One is Better for Waterproofing
If you are concerned about better waterproofing your boots, both Danner Dry and GORE-TEX stand out, but they offer distinct features and benefits.
Danner Dry is Danner's proprietary waterproof barrier. It's designed to keep external moisture out while allowing sweat and internal moisture to escape, ensuring that your feet remain dry. This technology is integrated into the boot's lining, ensuring a full waterproof shield. It's particularly beneficial for those who find themselves in wet environments but still require breathability to prevent sweaty feet.
On the other hand, GORE-TEX is a globally recognized waterproof membrane known for its durable water repellency and breathability. It's constructed with microscopic pores, which are large enough to let moisture vapor (sweat) out but small enough to prevent water droplets (rain, puddles) from entering. GORE-TEX is not just limited to footwear; it's used in a variety of outdoor gear, from jackets to gloves, making it a trusted name in the industry.
While both Danner Dry and GORE-TEX offer excellent waterproofing and breathability, the choice between them often comes down to brand preference, specific use-case scenarios, and, sometimes, price points. GORE-TEX might have a broader recognition in the outdoor industry, but Danner Dry holds its own, especially within Danner's range of quality footwear.
Here's a comparative table for Danner Dry and GORE-TEX:
| Feature | Danner Dry | GORE-TEX |
| --- | --- | --- |
| Origin & Branding | Danner's in-house waterproof technology | Globally recognized, used in various outdoor gear |
| Functionality | Prevents external moisture, and allows sweat to escape | Microporous structure, impermeable to liquid water |
| Application | Integrated into the boot's lining | Used as a membrane in footwear and other gear |
| Industry Recognition | Recognized within Danner's range | Widely acknowledged in the outdoor industry |
| Breathability | Ensures feet remain dry from internal/external moisture | Superior breathability, comfort in various conditions |
Parting Words
As we lace up this exploration into the world of Danner, one thing becomes abundantly clear: Danner isn't just a brand; it's an experience. From the meticulous craftsmanship that goes into every stitch to the stories each boot carries, Danner is a testament to the spirit of adventure, resilience, and unwavering commitment to quality.
Over the years, Danner has evolved, embracing new technologies and trends, but its core values remain unchanged. It's this blend of tradition and innovation that makes Danner boots more than just footwear. They're companions for life's journeys, be it a trek through the wilderness, a day at work, or a casual stroll through the city.
For those who've had the privilege of wearing a Danner, the connection is profound. It's the comfort of a perfectly molded footbed, the confidence of a sturdy grip, and the pride of donning a piece of Americana. And for those yet to experience it, a world of adventure awaits.
In the end, Danner's legacy is not just about the boots they craft but the footprints they leave behind. It's a reminder that in a world of fleeting trends and disposable culture, some things are built to last. Here's to the journeys, the adventures, and the trails yet to be discovered. With Danner by your side, every step is a story waiting to be told.
We are sorry that this post was not useful for you!
Let us improve our effort!
Tell us how we can improve our effort
Latest posts by Robert 'BootsGeek' Cone
(see all)