If we get to talk about the top three work boots brand right now, Irish Setter will be one of them. It's an ironclad fact that no one can deny!
All of their shoes are hard-wearing, exceptionally durable, super cozy, and highly functional. And from electrical hazard protection to heat-resistant features, these pairs have everything.
As every footwear by this brand is loaded with safety features and ergonomic, how do we choose the best Irish Setter work boots? Well, leave that part to me!
Here I have gathered the top five work boots by this manufacturer. By the time you finish reading, you'll get hooked on this brand; that's guaranteed!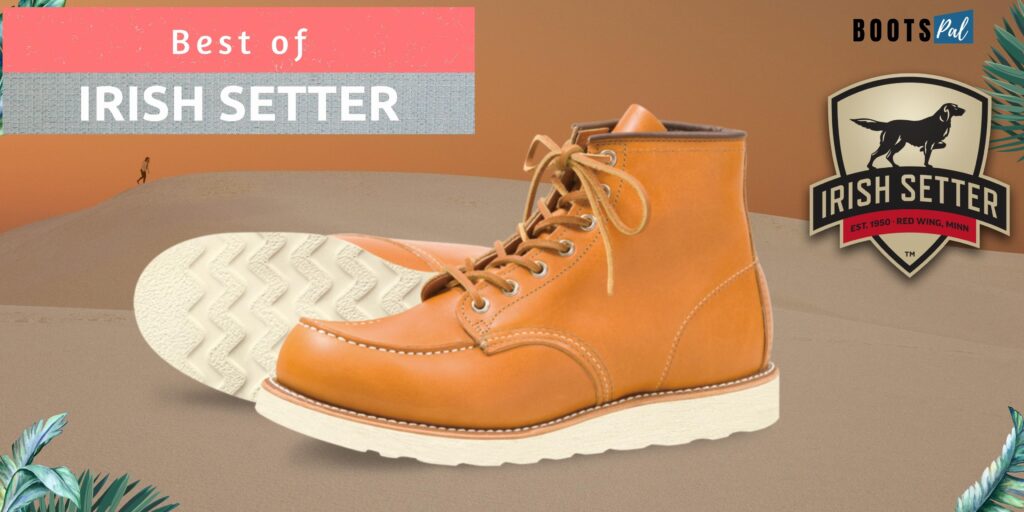 Here is my list of the five most amazing work boots by Irish Setter. These pairs are made to provide the ultimate satisfactory service; there's no doubt about that.
So, without wasting much time, let's get into that part right away!
---
Let's start our discussion with a robust pair of Irish Setter boots, shall we?
This Mesabi footwear is specifically designed for hard-wearing jobs. So, if you work in a mine, construction site, or farm, this one will be your best buddy!
The full-grain leather upper is amazingly waterproof. Therefore, your feet will stay crisp and dry as long as you have this pair on. Moreover, the lace-up design allows you to have a comfortable fit. What else do we need?
Thanks to its robust steel toe design, you can avoid all the workplace hazards with finesse. Your foot won't get injured if you accidentally drop any object, which sounds really comforting!
Now, let's talk about the safety features of these Irish Setter Mesabi work boots. Besides having electrical hazard defense, you're getting heat protection up to 475-degree Fahrenheit. And the exterior is resistant to oil and abrasion, so you'll have the whole package with this one!
The soft EVA cushioning will hug your feet perfectly and absorb all the shock and impacts. As a result, your feet will be on cloud nine all the time!
However, the rugged construction and steel safety toes make the pair a bit heavier. If you can deal with that, nothing can stop you from enjoying the benefits of these dynamic work boots!
What We Liked (Pros)
Full-grain leather construction makes it highly durable
Soft EVA cushioning ensures ultimate coziness
Steel toe design keeps you safe from accidents
Loaded with safety features to provide advanced protection
What You May Not Like (Cons)
It's more on the heavier side
Verdict
From top-tier upper construction to comfortable fitting, the shoes have everything. So, if you want to keep a top-notch Irish Setter boot in your collection, you should definitely think about this one!
---
What if I say there are incredible Irish Setter slip on work boots that you can wear for any occasion? I know that sounds too good to be true, but it actually is!
This pair is made with an aesthetically pleasing outlook that will be ideal for any formal or informal occasion. Furthermore, the robust steel toe design makes it suitable for any hazardous work environment. Isn't that a dynamic combination?
From construction sites to office meetings, this footwear will fit in smoothly. However, it may take a little time to break in, so you have to wait for a while!
Some users complain about the lack of inner padding, but I think that's a blessing in disguise. As you have to wear socks in a formal environment, the thinner interior will be perfect for that. In this way, your feet won't feel jammed in any condition.
Additionally, the outsoles have ergonomic lug patterns to ensure maximum traction. And this is just the icing on the cake!
What We Liked (Pros)
Suitable for any workplace environment
Outsoles are made with lug patterns for a secure grip
Steel toe construction offers better safety
Slip-on design makes it easy to wear
What You May Not Like (Cons)
The inner padding isn't safe for some users
Verdict
Getting a versatile work boot from a reputed brand is pretty rare. But Irish Setter has made that possible within an affordable price range; that's a praiseworthy fact!
---
They say stylish boots aren't functional. Well, this pair by Irish Setter will prove them wrong!
These gorgeous mid-ankle leather boots are not only chic but also made with tons of protective features. It comes with electrical hazard safety to prevent unpleasant accidents! And all of these come within a reasonable price range.
The full-grain leather upper is totally waterproof. However, to maintain its top-notch condition, don't expose the leather parts in the pouring rain!
Thanks to the super ergonomic outsoles, you'll get maximum traction on slippery terrain. Therefore, if you are into trekking or hiking, this boot will be your best buddy.
In addition, the exterior is made to be heat-resistant. Hence, if you want to work in a scorching hot environment, you can take this pair with you.
The EVA midsoles of this boot are 1.5-inch thick. Therefore, you will get a height boost here. Furthermore, the removable footbed makes the interior remarkably cozy. Isn't that impressive?
This Irish Setter footwear isn't vulnerable to oil and chemical. So, when it's about greater value for the money, this pair is the winner!
What We Liked (Pros)
Premium-grade leather construction makes it exceptionally durable
Comes with electrical hazard defense for enhanced protection
Boasts comfortable EVA midsoles for better support and comfort
Provides excellent traction on the slippery surface
What You May Not Like (Cons)
This footwear is high-maintenance
Verdict
If you want something hard-wearing and super modish, this Irish Setter 83605 Work Boot is all you need. However, you need to take proper care to make it last longer, and that's bad news for some folks out there!
---
I know a huge group of people has been waiting to see the Irish Setter cowboy boots review. And so, here I come!
These remarkably stylish work boots are made with a V-shape opening and pull-on tabs. Therefore, all you have to do is to put your feet inside, and you are done. However, it doesn't offer you any adjustment option, which is a bummer!
Besides having full-grain leather upper, it also comes with a water-resistant feature to ensure extended durability. Furthermore, this pair is also heat-resistant, which just adds the cherry on the top!
Now, let's talk about the steel safety toes of this work boot. It is made with a broad square design; hence, your feet will be at ease all the time. And your toe bones won't get crushed by any falling objects. Well, that's a relief!
Additionally, you will get electrical hazard defense and RPM outsoles for a secure grip on the ground. Therefore, if you want to get the most incredible Irish Setter pull-on work boots, you should definitely go for this one.
What We Liked (Pros)
Broad opening makes it easier to put on
Heat-resistant quality makes it suitable for the hottest weather
Steel safety toes protect you from disasters
Outsoles come with excellent traction for a better grip
What You May Not Like (Cons)
It's not entirely waterproof
Verdict
As there is no lacing or Velcro system, it will be tricky to get the perfect fit. However, this boot is quite long; thus, it's less likely to slip away! So, you can stop worrying now and make your mind to purchase this sweet thing!
---
The Irish Setter Wellington boots are one of the best-selling products of this brand. And so, reviewing this one was mandatory!
Sometimes it is hard to get the perfect fitting of pull-on boots. But with this one, you don't have to go through that ordeal as it is available in many sizes. Moreover, the shoes are easy to wear, which makes them super user-friendly.
The shaft is approximately 9.5-inch from the arch; hence, it won't be slipping away. Additionally, this pair has relatively bigger calves so that you will have a relaxing experience all the time.
However, this is a soft-toe boot, so there will be no additional safety system for your feet. But this quality also makes it amazingly flexible, and that's something praiseworthy.
It comes with crazy horse leather construction to guarantee long-lasting service. Moreover, the whole thing is waterproof, so you're getting a dynamic deal here.
The Vibram rubber outsole provides more traction than any other shoes out there. As a result, you will never fall on any terrain, and that sounds really comforting.
This pair also has a moisture-wicking lining to keep your feet fresh. Even working in the most humid weather, you don't have to worry about awful smells or foot fungus anymore.
What We Liked (Pros)
Designed with crazy horse leather for hard-wearing service
Vibram outsoles ensure a secure grip
Soft toe construction offers enhanced flexibility
Moisture-wicking liner allows your skin to breathe
What You May Not Like (Cons)
Doesn't have any additional safety to protect your toes
Verdict
Ergonomic pull-on boots are hard to find, but Irish Setter has created a whole new world of it. So, if you are a lover of cowboy boots, don't forget to give it a try!
---
Irish Setter on Instagram
Courtesy : irishsetterboots
---
Unique Characteristics of Irish Setter Boots
There is a ton of footwear out there. So, why should we go for Irish Setter boots? Well, that's a brilliant question to ask!
Shoes by this brand aren't ordinary ones at all. Let me tell you about the factors that make these boots unique.
Courtesy : irishsetterboots
Material
Irish Setter never compromises with the quality; that's no secret. They are made with premium-grade materials to provide you with an outstanding service throughout the years.
Therefore, when you're looking for something fashionable yet functional, these boots will be your savior!
Construction
It is just not the soles, but the overall constructions of these boots make them special. They are hard-wearing yet flexible, offer outstanding traction, and lasts for years. Therefore, you will always get a greater value for the money.
Moreover, the cushioning you get with the Irish Setter boots are out of this world! It provides a super soft and contoured compartment for your feet. As a result, you'll never feel any foot strain!
Safety Features
When it comes to safety features, the Irish setter boots have it all! You'll get heat protection, electrical hazard defense, waterproofing, and steel toes in some pairs.
Additionally, most of the outsoles are made to be oil and chemical-resistant. Hence, no matter where you work, your feet will be in safe hands.
Design
Irish setter boots aren't famous for vibrant and colorful footwear. But they make elegant boots with excellent ergonomics. And that's all we need.
You'll have some basic color choices such as brown, black, and grey. However, there're plenty of size options; hence, getting the perfect fit will be effortless!
---
If you have time, have a quick look at this very useful video on best Irish Setter Boots: 
Courtesy : Best Picks
---
Frequently Asked Questions
How often should I condition my Irish Setter leather boots?
It would be better if you shine your Irish Setter leather boots every three or six months. However, try not to wear them during bizarre weather conditions to maintain their top-notch condition.
Can I wash my Irish Setter boots in a washing machine?
No matter what the brand is, you should never wash your boots in a washing machine. For a better experience, you can regularly wipe off the shoes' dust with a microfiber cloth. And if it gets too dirty, use a mild water-based cleanser to make them shine like a new penny.
How much does it cost to resole a pair of Irish Setter boots?
It can take up to 50-100 bucks, depending on the repairs the shoe needs.
Are Irish Setter boots waterproof?
Yes, all of the Irish setter boots are either entirely waterproof or at least water-resistant.
How long does it take to break in Irish setter boots?
If you are wearing a brand-new pair, it may take up to 80-100 hours to break in perfectly.
---
Finally, I'm done informing you about the best Irish Setter work boots! I've mentioned all the top products, but here's my quick suggestion if you still have some doubts.
For an all-rounder experience, go for the Irish Setter Work Men's Mesabi Boot. It's hard-wearing, stylish, and comfortable. Well, that's all we can expect from footwear.
Furthermore, if you're into cowboy boots, pick the Irish Setter Work Men's Marshall Pull-On Boot. It has a wide opening, ergonomic pull-on tabs, and it feels really comfy.
However, it doesn't matter what you choose from my list; you'll get the experience of a lifetime!
---
We are sorry that this post was not useful for you!
Let us improve our effort!
Tell us how we can improve our effort
Latest posts by Lance 'LeatherMan' Hackney
(see all)